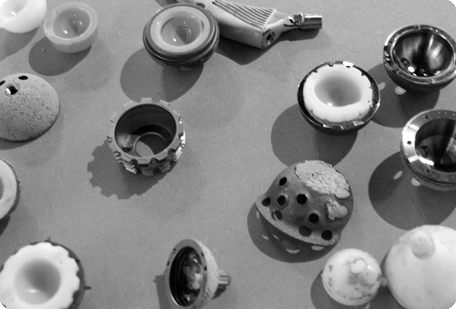 _____________(I): Rubert Ackroyd & Tim Nuthal_____________
Cabinet Particulier's inaugural salon at The Russian Club Studios took
place on the 15th December 2008.
With talks from guest speakers Rupert Ackroyd and Tim Nuthall, the ensuing
discussions were both inspired and, at times, a little heated. Over dinner
conversation flowed on a more intimate level before drawing to a close
with a little music from Jess Flood-Paddock and Sam Steer.
Rupert Ackroyd is an artist whose practice elucidates social implications
drawn from everyday objects. For the salon he focused his attention on the
ramifications of the potential successes and pitfalls of Ikea founder
Ingvar Kamprad's utopian modernist ideals.
Tim Nuthall is a surgeon from a family of inventors with a personal quest
for the everlasting hip. For the salon he elaborated on the greater
ambitions of hip replacement surgery relating them to both perfection in
design and social engineering. Tim's collection of hip replacement parts
form one of the world's most extensive, a selection of which was
available for scrutiny on the night.
For the actual cabinet, Rupert created a set of multiples made from
domestic self-assemblage detritus and incorporated elements from Tim's
collection, further celebrating this incongruous pairing. These multiples
will be on display until the next salon (date TBC) and can be acquired via
The Russian Club Gallery.
We would like to thank all of those who joined us.